The PD 622 is designed as a 6 channel input only device. It provides facilities for standard detection and counting of input signals. It is used with a BM 005 Base module.
· Individually Configurable Digital Inputs for nominal 24 volts signals.
· Built in input functions.
· Autonomous counting to 200 Hz
· Wide power supply range.
· Wide temperature range.
PD 622 Block Schematic
The diagram shows the I/O circuits and connection possibilities for a PD 622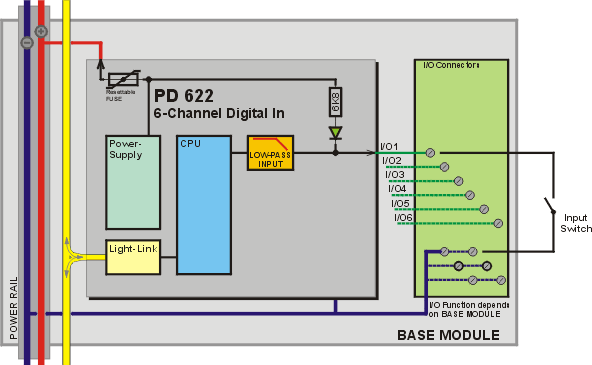 Channel structure
The PD 622 consists of 7 channels as shown in the table.
| | | |
| --- | --- | --- |
| Channel No. | Channel Name | Channel Description |
| 0 | | Module Ident.,Address and Config. |
| 1 | | General purpose Digital Input |
| 2 | | General purpose Digital Input |
| 3 | | General purpose Digital Input |
| 4 | | General purpose Digital Input |
| 5 | | General purpose Digital Input |
| 6 | | General purpose Digital Input |
Power supply

Power supply DC:

nom.

min.

max.

24.0 V

18.0 V

32.0 V

Ripple:

max.

5%

Power consumption @ 24Vdc

All inputs = ON

max.

45 mA

All inputs = OFF

max. 

30 mA

Current requirement at power up:

max.

60 mA

Digital Input

Input voltage at ON:

<

3 V

Input voltage at OFF:

>

9 V

Input hysteresis:

min.

0.3 V

Input current at ON:

max.

3.4 mA

Input frequency:

max.

200 Hz

Temperature

Operating temperature:

-25 °C - 70 °C

Storage temperature:

-40 °C - 85 °C

Humidity

Relative humidity:

max.

95%

EMC

EN61000-6-2, EN61000-6-3

Vibration

Test method: IEC 60068-2-6

Frequency range:

2-100 Hz

Frequency / amplitude: 

2-10 Hz: +/- 5.0 mm

10-100 Hz: +/- 2g

Sweep rate:         

max. 1 octave/min

Number of axes:

3 mutually perpendicular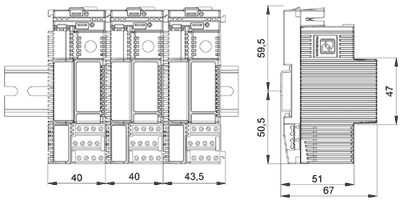 Related topics