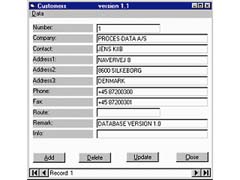 Click here to see details
PDFLOW is a tool for generating a customer database for PD 4000/340 Flowmeter-Display. The database can hold up to 1200 customers. This information is then downloaded to the PD 4000/340. The PDFlow Database program is based on a standard database using Access 2.0 file format. Requires PD 3920/PD 3930 and VIGO software.


Download the fully featured 30-days-free-trial version

The PDFLOW Program is sold on a try-before-buy basis.
Click the "files" button below to go to the download page.