The PD 620 has four independent digital channels capable of being configured for input or output. Each channel is also capable of measuring a scaled voltage input, and can therefore be used as an analogue input device. It can be used with the BM 014 for direct I/O terminals or the BM 008 base module, where four output channels can be used with the four built in relays.
· Individually Configurable Digital I/Os for nominal 24 volts signals and 1 amp (2 Amp) loads.
· Built in input and output functions.
· Autonomous counting to 200 Hz
· Load current measurement
· Input Voltage measurement and scaling
· Overload/Underload protection and Alarming.
· Advanced internal self testing.
· Wide power supply range.
· Wide temperature range.
The diagram shows the I/O circuits and connection possibilities for a PD 620
Channel Structure
The PD 620 consists of 5 channels as shown in then table.
| | | |
| --- | --- | --- |
| Channel No. | Channel Name | Channel Description |
| 0 | | Device Ident.,Address and Config. |
| 1 | | General purpose Digital Input or Output |
| 2 | | General purpose Digital Input or Output |
| 3 | | General purpose Digital Input or Output |
| 4 | | General purpose Digital Input or Output |
Power supply

Power supply DC:

Nom.

min.

max.

24.0 V

18.0 V

32.0 V

Ripple:

max.

5%

Power consumption @ 24Vdc

All outputs/inputs = ON 

max.

45 mA

All outputs/inputs = OFF        

max.

30 mA

Current requirement at power up:

max.

60 mA

Digital Input

Input voltage at ON:

<

3 V

Input voltage at OFF:

>

9 V

Input hysteresis:  

min.

0.3 V

Input current at ON:

max.

3.4 mA

Input frequency:

max.

200 Hz

Start current (Duration max 2 sec.)

max.

2 A *)

Load current at ON (Sink only)

max.

1 A

Leak current at OFF

max.

500 μA

Short circuit cutoff delaytime (current > 2 A)

max.

100 μsec

Oneshot and Dutycycle resolution            

15.625 msec

*) Enabled by setting MaxCurrent = 2 A, and MinMaxCurPreset = 2 seconds. By default, MaxCurrent = 1.0 and MinMaxCurTimer = 0.0.

Load current measurements

Accuracy:

min.

2.5 %, +/-10 mA

Resolution:

2.4 mA

Repeatability:

min.

1 %, +/- 10 mA

Current measurement update time:

Analog Input

Input voltage:

0 - 15 V

Resolution:

15 mV

Voltage measurement update time: 

15.625 msec

Temperature

Operating temperature

-25 °C - 70 °C

Storage temperature

-40 °C - 85 °C

Humidity

Relative humidity:

max.  95%

EMC

EN 61000-6-2, EN 61000-6-3

Vibration

Test method: IEC 60068-2-6

Frequency range:

2-100 Hz

Frequency / amplitude:

2-10 Hz :     +/- 5.0 mm

10-100 Hz:  +/- 2g

Sweep rate:         

max. 1 octave/min

Number of axes:

3 mutually perpendicular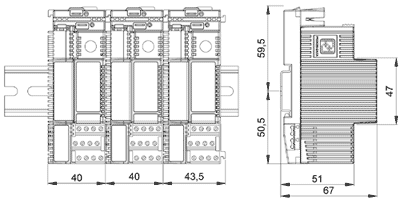 Related topics