The PD 621 has six general-purpose digital channels, which are normally all configured for either input or output. When configured as an input device, the BM 005 Base Module is used. When configured as an output device, BM 006 is used. Alternatively, by configuring channels 1-4 as inputs and channels 5 and 6 as outputs, the latter can use the two built in relays in BM 004). All of these combinations provide easy-to-use DIN-rail mounting.
· Individually Configurable Digital I/Os for nominal 24 volts signals and 1 amp (2 Amp) loads.
· Built in input and output functions.
· Autonomous counting to 200 Hz
· Load current measurement
· Overload/Underload protection and Alarming.
· Advanced internal self testing.
· Wide power supply range.
· Wide temperature range.
· 2 LEDs for power On and Error indication.
· 1 LED for each digital channel.
PD 621 Block Schematic
The diagram shows the I/O circuits and connection possibilities for a PD 621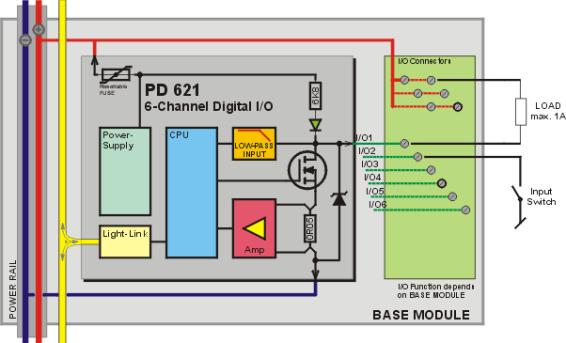 (see wiring diagram)
Channel Structure
The PD 621 consists of 7 channels as shown in the table.
| | | |
| --- | --- | --- |
| Channel No. | Channel Name | Channel Description |
| 0 | | Device Ident.,Address and Config. |
| 1 | | General purpose Digital Input or Output |
| 2 | | General purpose Digital Input or Output |
| 3 | | General purpose Digital Input or Output |
| 4 | | General purpose Digital Input or Output |
| 5 | | General purpose Digital Input or Output |
| 6 | | General purpose Digital Input or Output |
Power supply

Power supply DC:

Nom.

min.

max.

24.0 V

18.0 V

32.0 V

Ripple:

max.

5%

Power consumption @ 24Vdc

All outputs/inputs = ON 

max.

45 mA

All outputs/inputs = OFF        

max.

30 mA

Current requirement at power up:

max.

60 mA

Digital Input

Input voltage at ON:

<

3 V

Input voltage at OFF:

>

9 V

Input hysteresis:  

min.

0.3 V

Input current at ON:

max.

3.4 mA

Input frequency:

max.

200 Hz

Digital Output

Start current (Duration max 2 sec.)

max.

2 A *)

Load current at ON (Sink only)

max.

1 A

Leak current at OFF

max.

500 μA

Short circuit cutoff delaytime (current > 2 A)

max.

100 μsec

Oneshot and Dutycycle resolution            

15.625 msec

*) Enabled by setting MaxCurrent = 2 A, and MinMaxCurPreset = 2 seconds. By default, MaxCurrent = 1.0 and MinMaxCurTimer = 0.0.

Load current measurements

Accuracy:

Min.

2.5 %, +/-10 mA

Resolution:

2.4 mA

Repeatability:

Min.

1 %, +/- 10 mA

Current measurement update time:

Temperature

Operating temperature

-25 °C - 70 °C

Storage temperature

-40 °C - 85 °C

Humidity

Relative humidity:

max.  95%

EMC

EN 61000-6-2, EN 61000-6-3

Vibration

Test method: IEC 60068-2-6

Frequency range:

2-100 Hz

Frequency / amplitude:

2-10 Hz :     +/- 5.0 mm

10-100 Hz:  +/- 2g

Sweep rate:         

max. 1 octave/min

Number of axes:

3 mutually perpendicular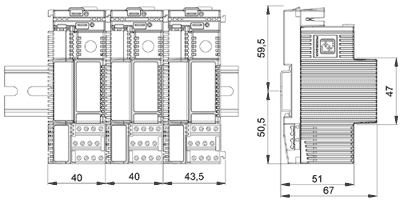 Related topics