PD 640 Analogue I/O Module
The PD 640 is a general-purpose analogue I/O device with four I/O channels. Channel 1 and 2 may be configured for either input or output. Channel 3 and 4 are input channels. All 4 channels can be independently configured for either 0-20 mA or 4-20 mA signal types. This enables most standard type analogue transmitters for pressure, temperature, flow, etc., to be connected to the input channels, and, for example, analogue actuators, motor controllers, etc, to be connected to the output channels of the device. Conversion from or to 0/4–20 mA is performed directly in the I/O channels, which means that process variables are read or written in floating-point engineering units. For example, a process controller or a PC can read the process value from a pressure transmitter, which is connected to an input channel, in bar, kPa, psi, or any other engineering unit, depending on the configuration.
PD 640 Block Schematic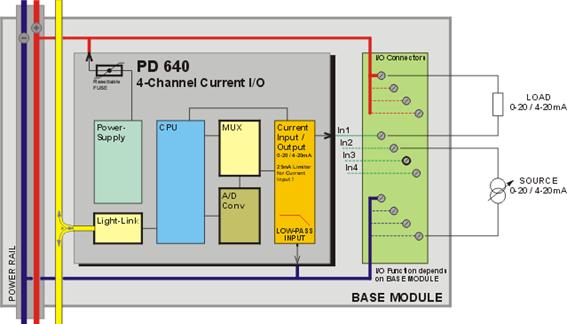 Channel Structure
The PD 640 consists of 5 channels as shown in the table.
| | | |
| --- | --- | --- |
| Channel No. | Channel Name | Channel Description |
| 0 | | Device Ident.,Address and Config. |
| 1 | | Analogue Input or Output |
| 2 | | Analogue Input or Output |
| 3 | | Analogue Input |
| 4 | | Analogue Input |
Power supply

Power supply DC:

Nom.

24.0 V

min.

18.0 V

max.

32.0 V

Ripple:

max.

5 %

Power consumption @ 24V DC

Operation:

max.

25 mA

Current at power up:

max.

60 mA

Analogue input (Ch. 1-4)

Signal type:

Current (0 – 20 mA / 4 - 20 mA)

Calibration error:

@ Tamb. 20 °C

max.  +/- 0.1 % of fullscale

Ambient temperature coefficient Tc:

max.

+/- 120 ppm / °C

Ambient temperature influence (ΔI):

Tc x (Tambient – 20) x Input

Resolution:

typ.

2 µA

Update time:

fixed

0.8 Second

Voltage drop across input at 20 mA:

nom.

1.2 V (60 Ω)

Current limiter (protection):

typ.

25 mA

Filter for analogue input signal

Type:

4th order low pass

Time constant:

configurable

3.0 s – 50.0 s

Gain error:

max.

+/- 0.1 %

Analogue output (Ch. 1 and 2)

Signal type:

Current (0 - 20 mA  /  4 - 20 mA)

Calibration error:

@ Tamb. 20 °C

max.

+/- 0.25%

Ambient temperature coefficient Tc:

max.

+/- 160 ppm / °C

Ambient temperature influence (ΔI):

Tc x (Tambient – 20) x Setpoint

Resolution:

typ.

2 µA

(For firmware versions earlier than 103: 100 µA)

Ambient temperature

Operating:

-25 °C – 70 °C

Storage:

-40 °C – 85 °C

Humidity

Relative humidity:

max.

95 %

EMC

Immunity:

EN 61000-6-2

Emission:

EN 61000-6-3

Vibration

Test method:

IEC 60068-2-6

Frequency / amplitude:

2-10 Hz: +/- 5.0 mm

10-100 Hz: +/- 2g

Sweep rate:

max. 1 octave/min

Number of axes:

3 mutually perpendicular
Related topics
PD 641 Analogue Input Module (Temperature)
PD 642 Analogue Input Module (mV / Thermocouple)