PD 626 Stepper motor controller and driver
Specific Features

The PD 626 is an integrated controller and driver for stepper motors.

It can directly drive a unipolar stepper motor having up to 1.8A windings.

The software in the controller permanently controls the acceleration or deceleration to reach the target position or the target speed.

Individual control parameters for each rotation direction are provided

Integrated high-speed limit inputs, enable configurable motor control events to be executed on the raising or falling edge of each input.

Used with base module BM 005 provides easy-to-use DIN-rail mounting.
· 13000 Hz stepping rate.
· 1.8 A per winding by integrated driver.
· Permanent acceleration / deceleration control.
· High-speed inputs for motor control triggers.
· 32 bit resolution; allowing a single move command to span 2 billion steps in each direction.
· Wide power supply range.
· Wide temperature range.
· 2 LEDs for power On and Error indication.
· 4 LEDs for motor control status.
· 2 LEDs for limit input status.
PD 626 Block Schematic
The diagram shows connection of a stepper motor and limit switches to a PD 626.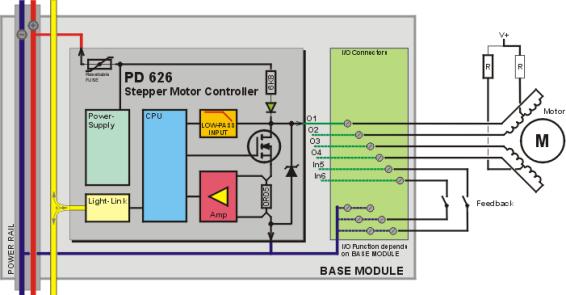 Channel Structure
The PD 626 consists of 2 channels as shown in the table.
| | | |
| --- | --- | --- |
| Channel No. | Channel Name | Channel Description |
| 0 | | Device Ident.,Address and Config. |
| 1 | | Control of stepper motor |
Power supply

Power supply DC:

nom.

min.

max.

24.0 V

18.0 V

32.0 V

Ripple:

max.

5%

Step controller

Step frequency

max.

13,000 step/sec

Acceleration

min.

0.87 step / sec˛

max.

800,000 step / sec˛

Speed accuracy

Speed repeatability error       

max.

 0.01%

Span of one positional movement

max.

+ / - 2 billion steps

Power consumption @ 24Vdc

All outputs/inputs = ON 

max.

45 mA

All outputs/inputs = OFF        

max.

30 mA

Current requirement at power up:

max.

60 mA

Short circuit cut-off delay time (current > 2 A)

max.

100 μsec

Temperature

Operating temperature

-25 °C - 70 °C

Storage temperature

-40 °C - 85 °C

Humidity

Relative humidity:

max.       95%

EMC

Test method

EN 61000-6-2, EN 61000-6-3

Vibration

Test method

IEC 60068-2-6

Frequency range:

2-100 Hz

Frequency / amplitude:

2-10 Hz :     +/- 5.0 mm

10-100 Hz:  +/- 2g

Sweep rate:         

max. 1 octave/min

Number of axes:

3 mutually perpendicular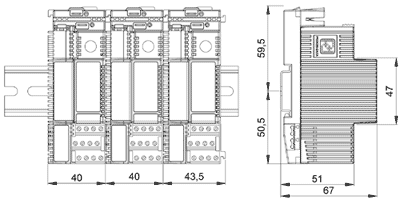 Related topics